2nd Meeting of DGM Regionalforum Erlangen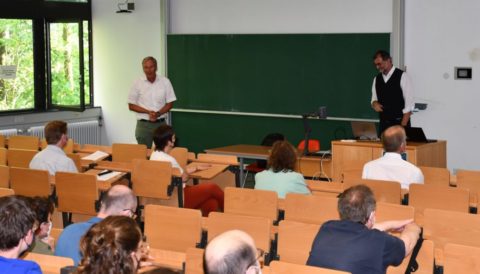 The second  DGM Regionalforum Erlangen was held on 20th June 2022 in the Department of Materials Science and Engineering (WW) of University of Erlangen-Nuremberg with more than 60 participants. The Forum was hosted by Prof. Aldo R. Boccaccini, Prof. Mathias Goeken, Prof. Carolin Koerner and Dr. Tobias Fey. DGM President Prof. Martina Zimmermann (TU Dresden) was also in attendance and greeted the participants on behalf of DGM.
The theme of the Forum was "Digital Materials Science" and the program included presentations by Dr.-Ing. Johannes Staeves (BMW Group, München) and Prof. Christoph Brabec (Chair of Materials for Electronics and Energy Technology at Univ. of Erlangen-Nuremberg), with a final discussion round table moderated by Prof. Mathias Goeken.
The DGM Regionalforum Erlangen was founded in 2018 as the local chapter of the German Materials Society (DGM) with the goal to offer a communication platform to connect and facilitate the exchange between the different sectors involved in "materials science and engineering" in the Erlangen and Northern Bavaria region, with strong emphasis in developing networks between industry, universities and other research institutions.