1st Meeting of DGM Regionalforum Erlangen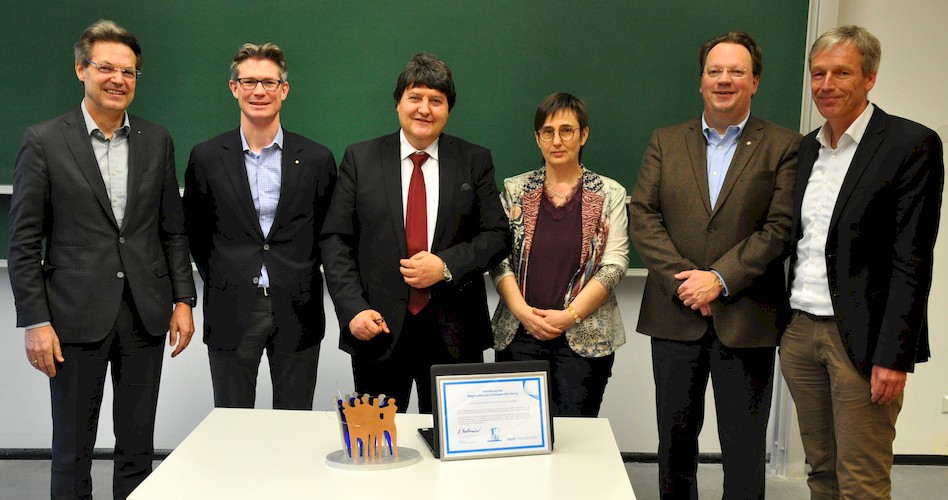 The first meeting and scientific seminar of the DGM Regionalforum Erlangen was held on 2nd April 2019 in the FAU Department of Materials Science and Engineering (WW).
The program included presentations by Prof. Aldo R. Boccaccini (Chair of DGM Regionalforum Erlangen and Chair of WW Department), Dr.-Ing. Anton Stich (Audi AG Ingolstadt) and Prof. Carolin Koerner (Head, Chair of Materials Science and Engineering for Metals (WTM)), with a final discussion panel moderated by Prof. Mathias Goeken (Head, Institute for General Materials Science).
Moreover a poster session was organised in which PhD students of the different Chairs of the WW Department presented their latest results. Also the student association (Fachschaft) of the WW Department was present.
The DGM Regionalforum Erlangen was founded in 2018 as the local chapter of the German Materials Society (DGM) with the goal to offer a communication platform to connect and facilitate the exchange between the different sectors involved in "materials science and engineering" in the Erlangen and Northern Bavaria region, with strong emphasis in developing networks between industry, universities and other research institutions.
In the first meeting of the Forum the two DGM presidents were present: Prof. Frank Mücklich (science) and Dr. Oliver Sven Schauerte (industry), pictured with the members of the Executive Board of DGM Regionalforum Erlangen, Prof. Aldo R. Boccaccini, Dr. Tobias Fey (Institute of Glass and Ceramics), Prof. Carolin Koerner and Prof. Mathias Goeken.