Test facility for water purification with diamond electrodes in the new well in Tirschenreuth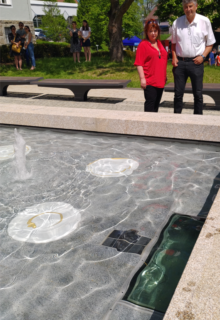 On Sunday, May 15, 2022, a newly designed porcelain-granite fountain was opened in front of the district office in Tirschenreuth by District Administrator Roland Grillmeier under the motto of linking tradition with modernity.
The fountain contains large white porcelain plates with gold applications as design elements, which refer to the earlier designation of the many centuries of history of porcelain production from the regionally available kaolin as white gold. These porcelain design elements were created by ceramic artist Barbara Flügel from Schönwald near Selb, who is simultaneously developing new diamond ceramic electrodes (iDDE, integrated double diamond electrodes) for water purification with Prof. Stefan Rosiwal from FAU Erlangen-Nuremberg and several Bavarian companies in a major research project funded by the Bavarian Research Foundation.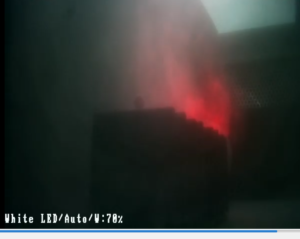 With the help of the iDDE and some electricity, the carbon-based dirt (germs, bird droppings, algae, etc.) in the water can be "cold burned" electrochemically. The addition of purification chemicals (e.g. chlorination) is to be eliminated.
The world's first prototype system for water purification with iDDE was developed by the Chair of Materials Science and Technology of Metals and the Mechanics and Electronics Workshop at FAU and installed in the well for test purposes with remote control from Erlangen.
Over the next three years, the cleaning effect of the iDDE and its service life will be evaluated. The project participants hope that the innovative iDDE technology for water purification of industrial wastewater as well can contribute to a revival of ceramic production in the region.