University spin-off 'AMPERIAL Window Technologies'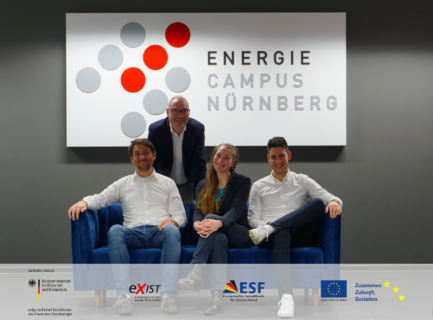 Unwanted solar heat gain in buildings
Air conditioning systems in residential and office buildings already consume around 10% of the energy consumed worldwide (approx. 2000 TwH).
Most of the unwanted heat enters the buildings as sunlight through windows and glass facades. Energy-efficient renovation of windows or the installation of automated shading systems are often very expensive, time-consuming or involve complex construction measures. Static solutions such as sun blocking films or glasses offer an effective solution in summer, but continue to block the free solar energy also in winter, thus causing increased heating and lighting costs.
Smart and retrofittable window foils for cooling
AMPERIAL is developing a retrofittable and dynamic heat protection for buildings. The invention of a novel, nanotechnology material (EU patent application submitted) enables a novel innovation to produce retrofittable and smart solar control foil in a cost-effective and scalable manner.
These foils can reduce heating in the building by up to 7°C and electricity consumption for cooling and lighting by up to 26%.
The transparent film mainly reflects the heat component of sunlight (approx. 50% infrared), but without impairing the desired daylight penetration. So to speak, "light comes in, heat stays out." The effect can be activated or deactivated automatically (e.g. according to temperature, season, sunlight) or individually according to comfort and well-being.
The film can also be gradually tinted to prevent unpleasant sun glare (glare protection).
Founding history, team and funding
The AMPERIAL spin-off project emerged from the long-standing research on colloidal nanocrystals of the research group "Solution Processed Semiconductors" (SoPSem) of the Friedrich-Alexander-University Erlangen-Nuremberg (FAU) at the Energy Campus Nuremberg (ENCN).
The SoPSem group is part of the Chair of Materials in Electronics and Energy Technology of the Department of Materials Science. The research work took place under the supervision of Prof. Dr. Wolfgang Heiß, who has specialized in nanocrystalline chemistry and electronics for more than 20 years. Since 2015, Niall Killilea has been pursuing a PhD under Prof. Heiß, with a focus on the development and discovery of new materials in the field of infrared-active electronics. In 2020, Niall began developing a novel metal oxide nanocrystal ink, which is the technological foundation for the founding project. In early 2021, his research culminated in the first prototype of a novel electrochromic film. The prototype clearly demonstrated the enormous potential of the technology to be further developed into a product and commercialized in the future.
In addition to Niall Killilea (Chemistry & Nanotechnology), the team consists of Dr. Olaf Weiner (Molecular Biology, serial entrepreneur), Katja Wadlinger (Advanced Materials and Processes) and Matthias Trost (International Business, ex-ZOLLHOF Incubator of FAU).
Since the beginning of 2023, the team has been supported by the German Federal Ministry of Economics and Climate Protection (BMWK) and the European Social Fund through the EXIST Founder Grant with a six-figure grant. The 12-month funding period will focus on further technological development and securing follow-up financing.
Contact und Info:
Website: www.amperial.eu
Mail: info@amperial.eu