Dr. Tobias Fey awarded for Best Oral Presentation at the ICC8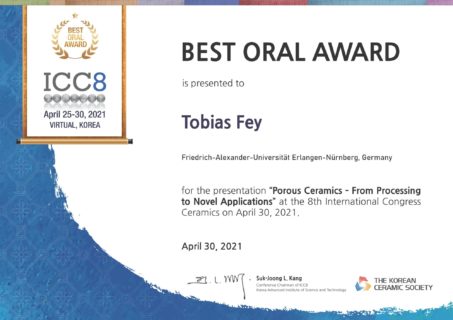 IGK principal investigator Dr. Tobias Fey from Project D – Additive Manufacturing of Cellular Lead-Free Ceramics won an award for his oral presentation about "Porous Ceramics – From Processing to Novel Applications" at the ICC8.
Congratulations!
The International Congress on Ceramics (ICC) is a unique international ceramic conference in that it is held every two years in three different continents consecutively. The purpose of this conference is to share ideas and visions of the future for ceramic and glass materials and to provide a platform for the researchers in academia and practitioners in industry to present the latest research and technology progress in the field.ICC8 had to be held online.
The award is intended as acknowledgement and recognition for scientists who have contributed to the development of the ceramic industry with their research and case studies.